Standard Edition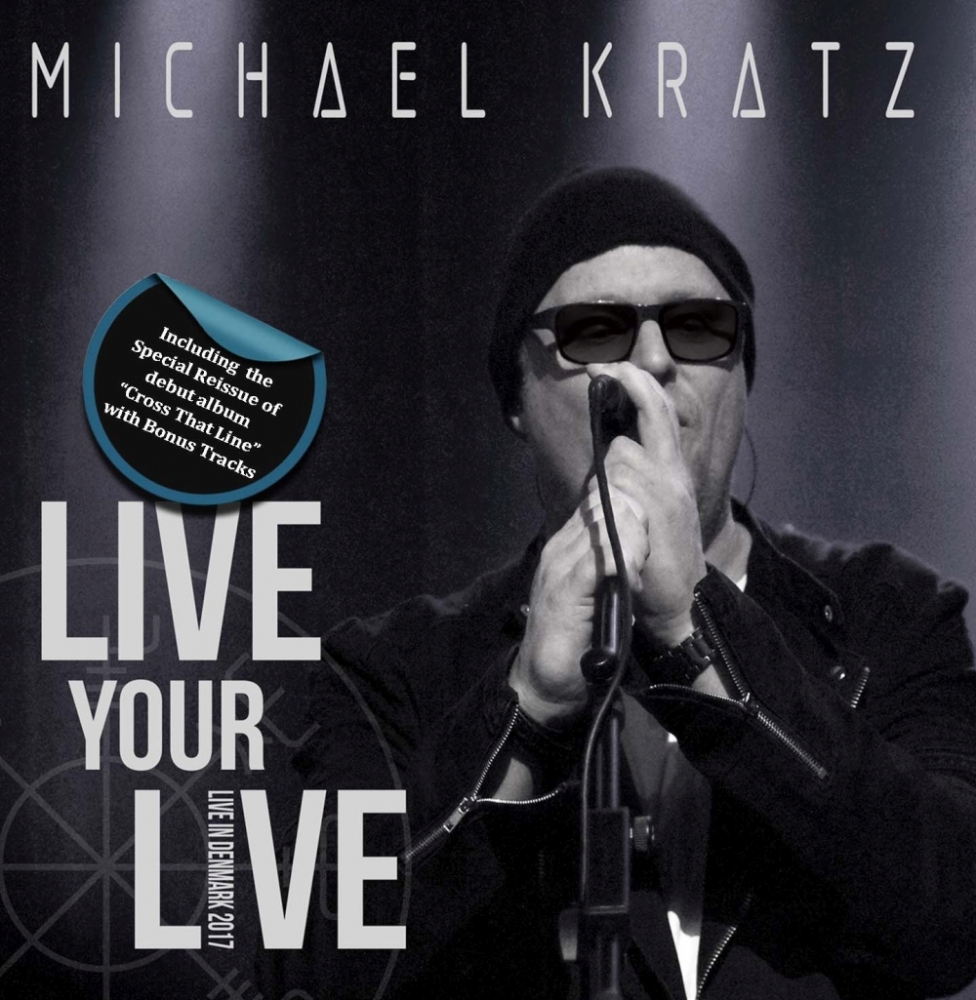 RELEASE DATE:
December 7, 2018
Label: Art Of Melody Music / Burning Minds Music Group
Limited Edition

Limited to only 25 numbered copies
Credits (LIVE discs)
The Band
Michael Kratz: lead vocals, guitars
Christian Warburg: Guitars, bg vocals
Henrik Lynbech: Keys, bg vocals
Claus Nauer Reher-Langberg: Bass, bg vocals
Kasper Viinberg. Drums, bg vocals
Tony Liotta: Percussion
Live Crew
FOH: Ole Viinberg
Sound Tech.: Daniel Friis Kjær
System Tech.: Benjamin Kristensen, Rainbow Pro
Light Production: Litecom
Tour Manager: Bo W. Lauritsen
Production:
Produced by Kasper Viinberg & Michael Kratz
Mixed by Kasper Viinberg & Michael Kratz at Kawer Studios
Sound mastered by Torben Lysholm at SnakeRock
On location sound recording: DK4
Filmed and broadcasted by DK4
Artwork: Antonella Aeglos Astori (Aeglos Art), Michael Kratz
Recorded live in Denmark 2017 & 2018 and filmed for TV by DK4.
All songs written by Michael Kratz, Michael Kratz/Kasper Viinberg except Lonely Soldier (Michael Kratz/Brian Lauridsen) and Until We're Together (Michael Kratz/Frank Megabody)
Manager: Bo W. Lauritsen, Million Dollar Management.
International booking: PH Jakobsen Management
Photos: Lasse Enemark, René Bager & Jann Guldhammer, Tony Fyne pp Photony (Warburg in action)
Online: michaelkratz.net | facebook.com/michaelkratz.net | twitter.com/ikratz
Michael would like to thank:
Claus Nauer Reher-Langberg, Henrik Lynbech, Christian Warburg, Lasse Baggenæs, Martin Granum, Tony Liotta, Ole Viinberg, Torben Lysholm, Art Of Melody Music / Burning Minds Music Group, Fermaten, the entire staff at DK4, Kurt Harboe, Majid Drums, Paiste, SELA, Rainbow Pro, the crew and the fans.
Special thanks to:
Ulla, Katrine & Oliver, Kasper Viinberg, Pierpaolo "Zorro" Monti, Bo W. Lauritsen and Kenneth Bremer.
Live Your LIVE is dedicated to my friend and brother, Kenneth Bremer.
Credits (Cross That Line)
Lead Vocals: Michael Kratz
Backing Vocals: Ole Viinberg, Kasper Viinberg & Michael Kratz
All vocals recorded at KOMO studio, Herning
All instruments (Drums, Bass, Guitars, Keyboards & Programming) performed and recorded by Kasper Viinberg at Kawer Studios and KOMO studio, Herning) *
*except on following tracks:
Until We Are Together (Bass: Kim Eskesen, Lead Guitar: Lasse Baggenæs, Rhodes & Keyboards: N.O. recorded at DMC Recordings)
If This Is Christmas (Bass & keys: HC Röder Jessen, Drums & Sleighbell: Kasper Langkjær, Guitars: Christian Warburg, BG vocals: Anna Röder Jessen. Recorded at HCR productions, mixed by Peter Iversen & HC Röder Jessen)
Don't You Know (Slide Guitar: Lasse Baggenæs recorded at DMC Recordings)
Lonely Soldier (Acoustic Guitar: Michael Kratz, Reversed Dobro: Janus Bechmann recorded at Little Memphis Recordings, Piano & Keyboards: N.O recorded at DMC Recordings)
Dragging Me Outside (Guitars: Luca Carlomagno, Kasper Viinberg and Michael Kratz, Bass: Roberto Barazzotto, Keys: Kasper Viinberg, Drums: Italo Graziana)
All songs written by Michael Kratz except Lonely Soldier (Michael Kratz/Brian Lauridsen), Until We're Together (Michael Kratz/Frank Megabody) and Dragging Me Outside (Michael Kratz, Kasper Viinberg/Mindfeels)
All songs arranged by Kasper Viinberg & co-arranged by Ole Viinberg & Michael Kratz
Executive Producer: Kasper Viinberg
Co-Producer: Ole Viinberg
Mixed by Kasper Viinberg
Mastered by Torben Lysholm at SnakeRock
Artwork & cover layout: Michael Kratz
Additional photos: Lasse Enemark
Michael Kratz online: michaelkratz.net | facebook.com/mikkratz | twitter.com/ikratz
Thanks to: My family for all your love and patience. The Komo staff, especially Ole and Kasper – you are amazing! Bo at Million Dollar Management and everybody who's been around this project, helping, trusing and believing – I love you! To Mindfeels for making music with me and for your friendship. To Lasse Enemark for great help and a lot of fun! To Paiste, Premier Drums, Lindhardt Guitars, EMMA electronics & Orkestergraven for great gear.
To my fans – I can't wait to meet you on the road again!
This album is dedicated to my mum.
Tracks
Disc 1 (Live)
Cross That Line
Holding On Again (Anni)
Live Your Life
Don't You Know
Until We're Together
Need You To Be Mine
Bye Bye
Like Father, Like Son
Lying
Sleeping Mama
Disc 2 (Live)
I Don't Know How
This Town Is Lost Without You
What Did I ..?
Never Take Us Alive
Evil Rumours
You And I Are Meant To Be
Lonely Soldier
We All Live In This Nation
Hypnotized
Disc 3 (Cross That Line)
Cross That Line
I Don't Know How
Need You To Be Mine
Sleeping Mama
Don't You Know
Until We're Together
Holding On Again
Lonely Soldier
Hypnotized
You And I Are Meant To Be
Like Father, Like Son
Evil Rumours (bonus track)
Dragging Me Outside (bonus track)
If This Is Christmas (bonus track)
Reviews
Live Your Live review by Woody's Rock Reviews
info@tendentz.dk
2023-01-23T15:13:58+01:00
By Woody, Woody's Rock Reviews
Although Michael Kratz is an established musician in his native Denmark my introduction to him was his last album 'Live Your Life' which I really enjoyed but when this double live album came to me, I wasn't sure what to expect as a good chunk of the setlist is new to me. Some genius decided to add a reissue of Kratz's album 'Cross The Line' as a bonus disc, this of course allowed me to familiarise myself with the studio recording versions of much of the setlist. Not only does this re-issue, which itself features a handful of bonus tracks, make this album value for money but it also helps people new to Kratz to get a fuller picture of his music.
I can take or leave live albums, this is mainly down to the fact I find regardless of how much I may enjoy them initially I don't return to them often, usually this is in favour of the studio recorded versions. The live albums I do tend to return to have something strong about them that captures me and encourages me to revisit them, a great example of this is Magnum's 'Stronghold' which contains amongst others the best version of 'Back To Earth'.
So, does Kratz's live album do that, well I'd say yes, but not because the live versions are specifically better or have more impact than the studio but because the set has a very uplifting and relaxing tone. Therefore, making it a very enjoyable listen that suits various moods, to chill out with or even trying to cheer yourself up after a hard day.
It's extremely well produced with a crystal-clear sound. It captures the live feeling without distortions or obtrusive imperfections, the crowd noise isn't overbearing and the sound mix is perfect. This allows for maximum enjoyment, nothing is as good as actually been there but this does give you in an insight in to Kratz live. His band are flawless and obviously extremely experienced live performers and Kratz is spot on with his rich and emotive vocals coming across with a great impact.
This is an essential listen for fans of the softer stuff, although Kratz is a new name to not just me but I'm sure many Fireworks readers he is a true master of the art of Westcoast AOR. I love stuff like this and I'm sure many others will too!
8/10
Essential Track – 'Hypnotised'